They are the favorite spot of many, as soon as the first spring sunbeam appears. In pandemic times, they have fewer places available, reduced hours and no tourists, at least for now, but they are no less appealing and inviting. Whether for eating, drinking or socializing, in the middle of the city or over the river, the terraces guarantee generous doses of vitamin D and post photos for Instagram. Here are our suggestions in Porto and Lisbon.
Rua da Restauração, 252, Porto. 93 522 4000. Monday to Saturday, from 12 pm to 10 pm; Sunday, 12 noon to 8:30 pm
It is one of the favorite places of the couple Iker Casillas and Sara Carbonero in Porto and no wonder, the highly instagramable landscape between the houses and the little busy location are points in favor. As the name implies, this terrace has a privileged view over the Douro and Gaia, is protected from the typical northern wind and in the 60 available places, spread over two floors, drinks are served, from the famous fine to sparkling sangria, and some snacks such as beef hamburgers, chicken salads or mixed cheese and sausage boards. Next month, the lower floor will have an 80-seat restaurant, whose specialty will be traditional Portuguese food, simple and without tricks. With a full belly, watch out for urban art interventions, with Porto signature, spread across the street.
Largo Miguel Bombarda, 23, Vila Nova de Gaia. 22 092 5340. Tuesday to Saturday, from 12 pm to 11 pm; Sunday, 12:30 pm to 6:30 pm
Espaço Porto Cruz, on the riverside area of ​​Gaia, took advantage of the forced closure to carry out renovations. Now reopens with some new features, keeping the bow to Port wine. On the fourth floor, the 360º terrace allows a generous view over the city and a menu of cocktails made with house wines, but also with gin or sparkling wine. The seats are properly separated and each person will be entitled to a bag to put their mask on. At lunch, the terrace shares the same menu as DeCastro, located a few floors below and commanded by chef Miguel Castro e Silva. The restaurant gained a private room with a panoramic view and capacity for 10 people, since the new menu is true to Portuguese flavors, being available for take away. The ice cream parlor is also reopened and next month there will be a new terrace on the ground floor, next to the store, and new wine tasting menus.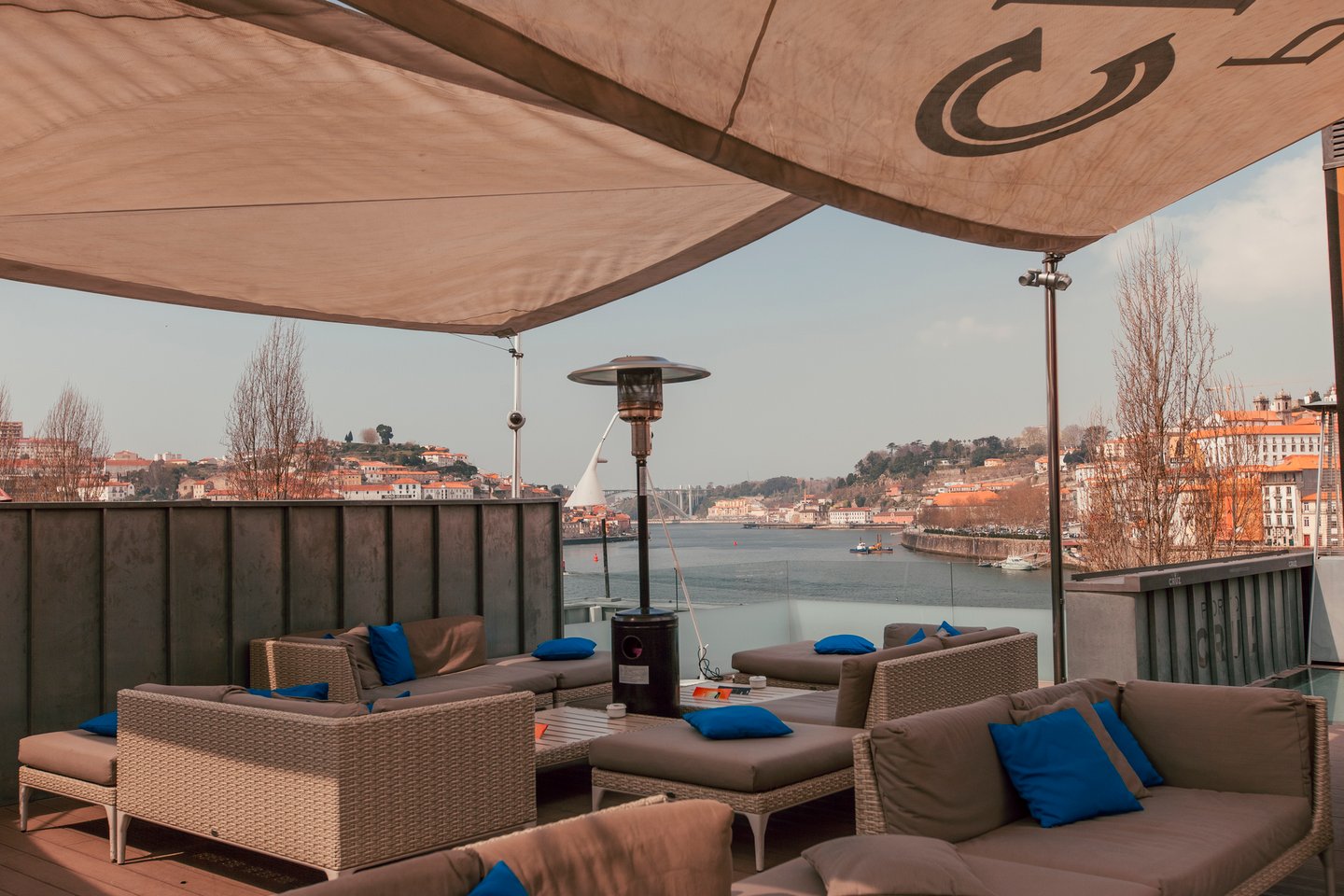 Rua das Oliveiras, 36, Porto. 22 208 4398. Monday to Saturday, from 10 am to 11 pm; Sunday, 1pm to 11pm
"We serve almost everything" is what is read at the door of this tavern-bar in downtown Porto, famous for its relaxed atmosphere and especially popular when the sun goes down. Located between the Teatro Carlos Alberto and the almost empty Galerias Lumière, Aduela is king and lord of wine by the glass, has more than 20 different references in white wine and the national seal is almost always present. For snacks, there are tapas to share and different homemade cakes every day for the sweet tooth. The terrace with wooden furniture, distributed over an olive tree, is reduced, although those who insist on distrusting don't mind standing up, at least that's what we have seen. If you see instagramer Wandson Lisboa making videos while toasting, do not be shy, he is one of Aduela's most loyal customers and makes a point of trying it.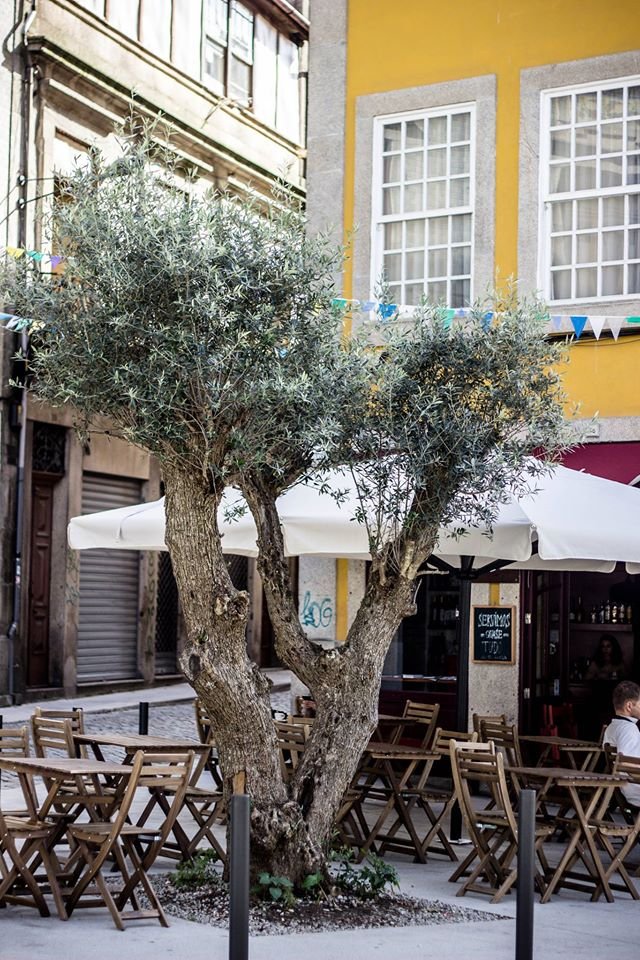 Rua do Agro, 141, Vila Nova de Gaia. 22 093 0417. Monday to Sunday, from 12 pm to 11 pm
On the other side of the bridge, there are also plenty of good reasons to settle on a terrace without haste. Vinum is a restaurant and wine bar opened in 2013, integrated in the recovery process of Graham's Caves. The terrace is a kind of luxury balcony over the river, surrounded by a romantic garden and full of XXL sofas and pillows. It is there that you will be able to try chef Francisco Miranda's proposals washed down with one of the many house wines. On the menu, dishes such as the famous old beef cutlet from Trás-os-Montes or one of the fresh fish directly from the Matosinhos Market stand out.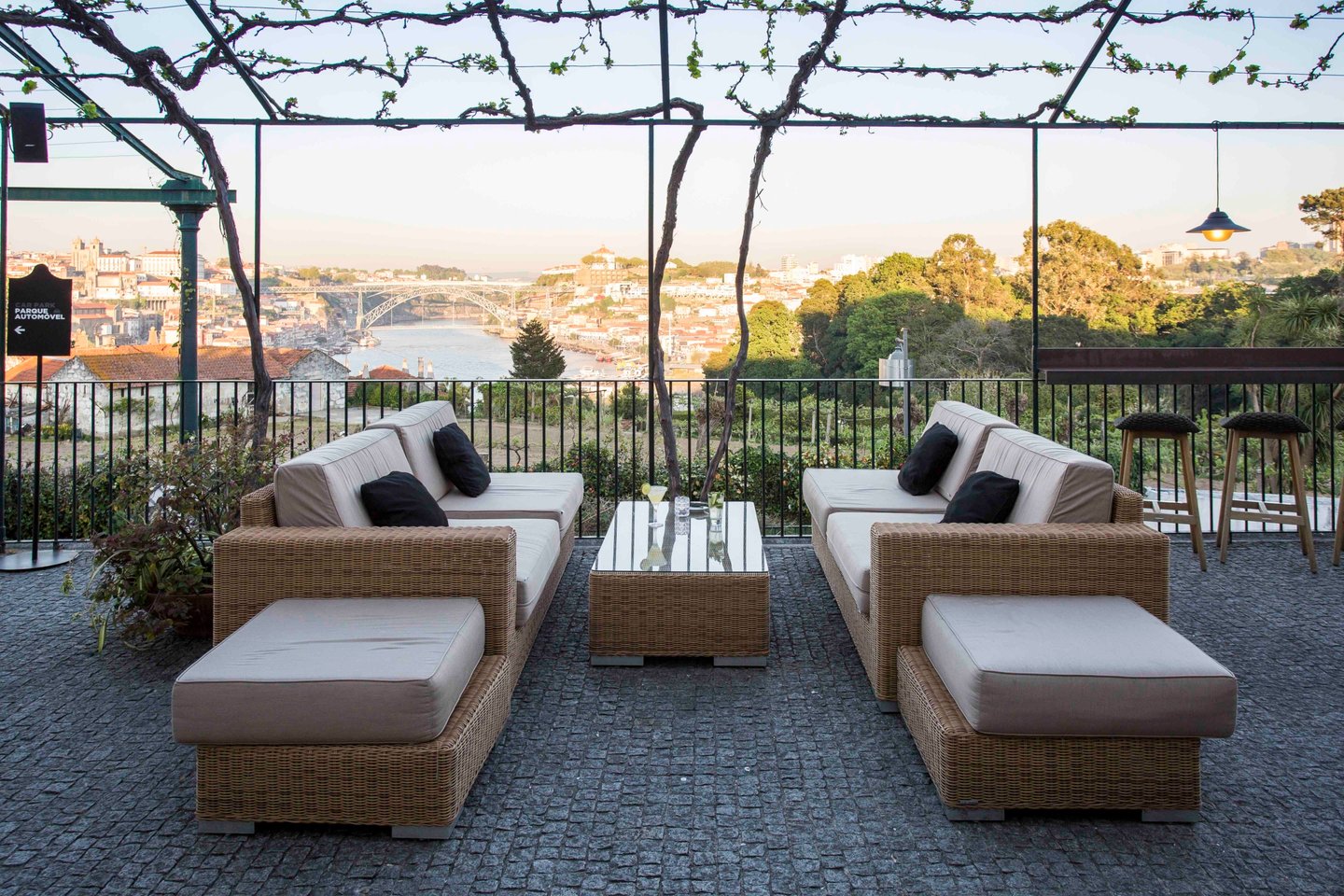 Rua das Carmelitas, 151. 91 107 6920. Monday to Sunday, from 1 pm to 11 pm
Arraiais, theme parties, live concerts, clothing parades or broadcast of football games, almost everything has already happened at Base, the well-known esplanade in Jardim das Oliveiras with the Torre dos Clérigos as a backdrop. In 2020, the project celebrates five years of life and reopens with some limitations, but with the same informal and unpretentious environment as always. There is maximum capacity for people, both in the garden and on the terrace, with about 80 seats. The service at the table and in the garden is now privileged to avoid lines at the kiosk and bars, and instead of the usual XXL blankets, the lawn will have individual washable puffs and cushions. This year no kiosk food will be served, only drinks, designer cocktails and, of course, lots of music.
Terraços do Carmo, Lisbon. 21 342 0626. Monday to Sunday, from 11 am to 11 pm
It is one of those classics that does not go out of style and rarely disappoints. Between two of the most emblematic monuments of Lisbon, the Elevador de Santa Justa and the Convento do Carmo, is the Topo Chiado, right on top of a viewpoint worthy of photography. The space has two floors and adapts both to lunch with co-workers and to an evening spent on one of the sun loungers. The tables were removed, some chairs were removed and disinfectants are now part of the whole scene. Hamburgers, pizzas and salads continue to be the most requested dishes, while in drinks, bleeds and natural juices reign.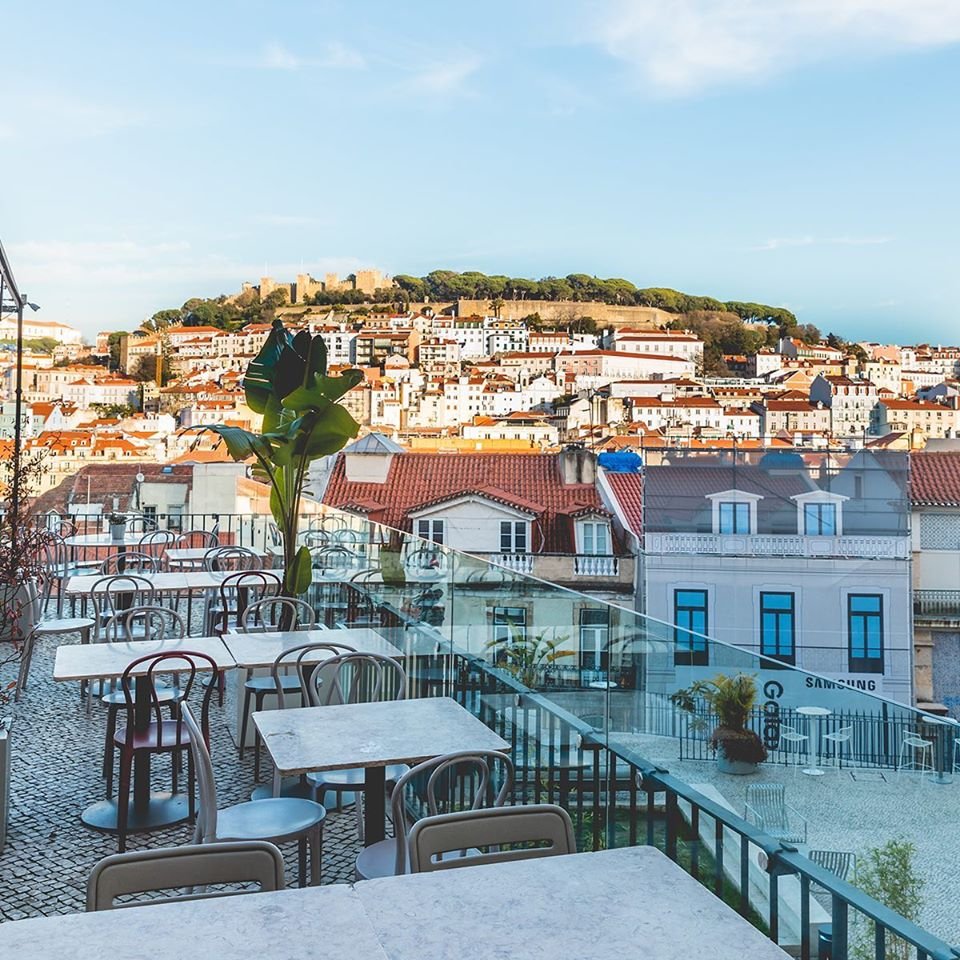 Travessa de Santa Quitéria 38, Lisbon. 21 385 0967. Monday to Sunday, from 12:30 pm to 11:00 pm
If you believe that a terrace rhymes with good fish and seafood, perhaps Cervejaria Sem Vergonha is the ideal address for you. It reopened with all safety standards, the terrace was reduced to 93 seats, but it did not lose its charm. Under the umbrellas, at the table or between XXL loungers and sofas, it is possible to order clams with bulhão pato, tuna tartar, prawn curry or crab wrap. Those who do not dispense meat, do not need to make freight. The brewery also bets on mature meats and sirloin steaks, nails in bread or infallible combinations with mushrooms. Accompany the meal outdoors with a chilled white wine or the typical beer that gives the restaurant its name.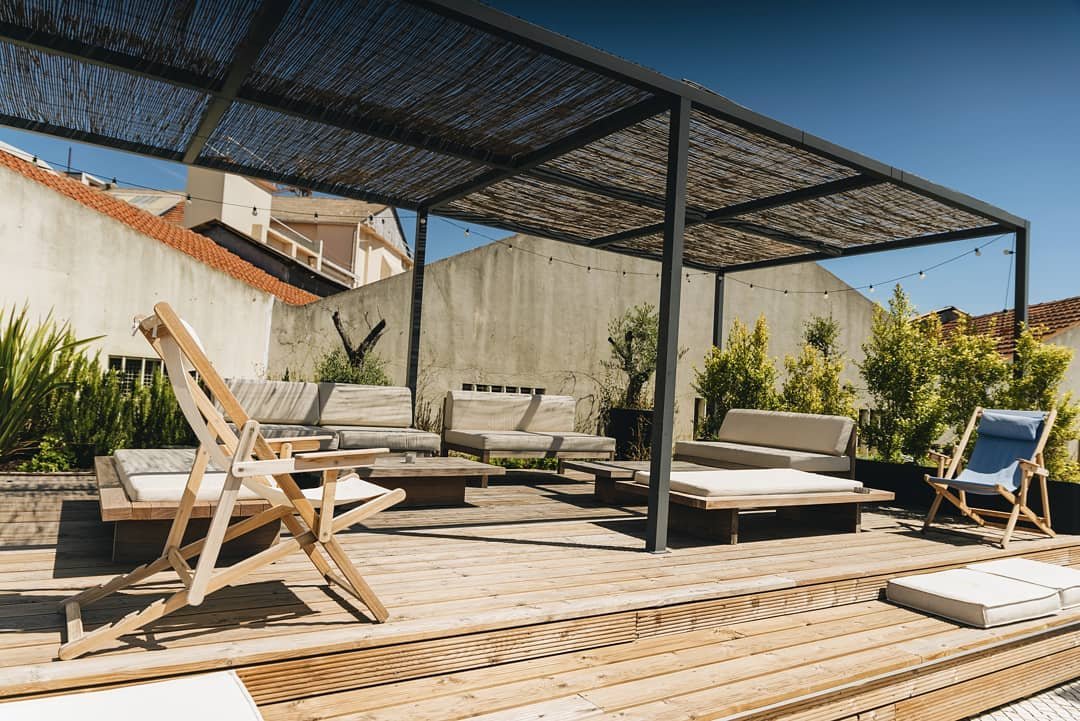 Calçada do Combro, 58, Lisbon. 21 591 4011. Monday to Sunday, from 1 pm to 11 pm
It is not every day that we go up to the sixth floor of a car park and come face to face with a rooftop and a dignified view of the city. In the Park, this miracle happens. The terrace covered with plants and rustic wooden furniture kept the usual number of places, guaranteed the recommended distance and reopened doors to liven up the days of those who are not afraid of heights. From the bar come cocktails, with or without alcohol, and snacks such as nails, tuna hamburgers, cod, chicken, barrosã cow or Alentejo pork, salads or soups. Music is one of the Park's strong points, which risks DJs specialized in urban sounds, from hip-hop to the most tropical beats.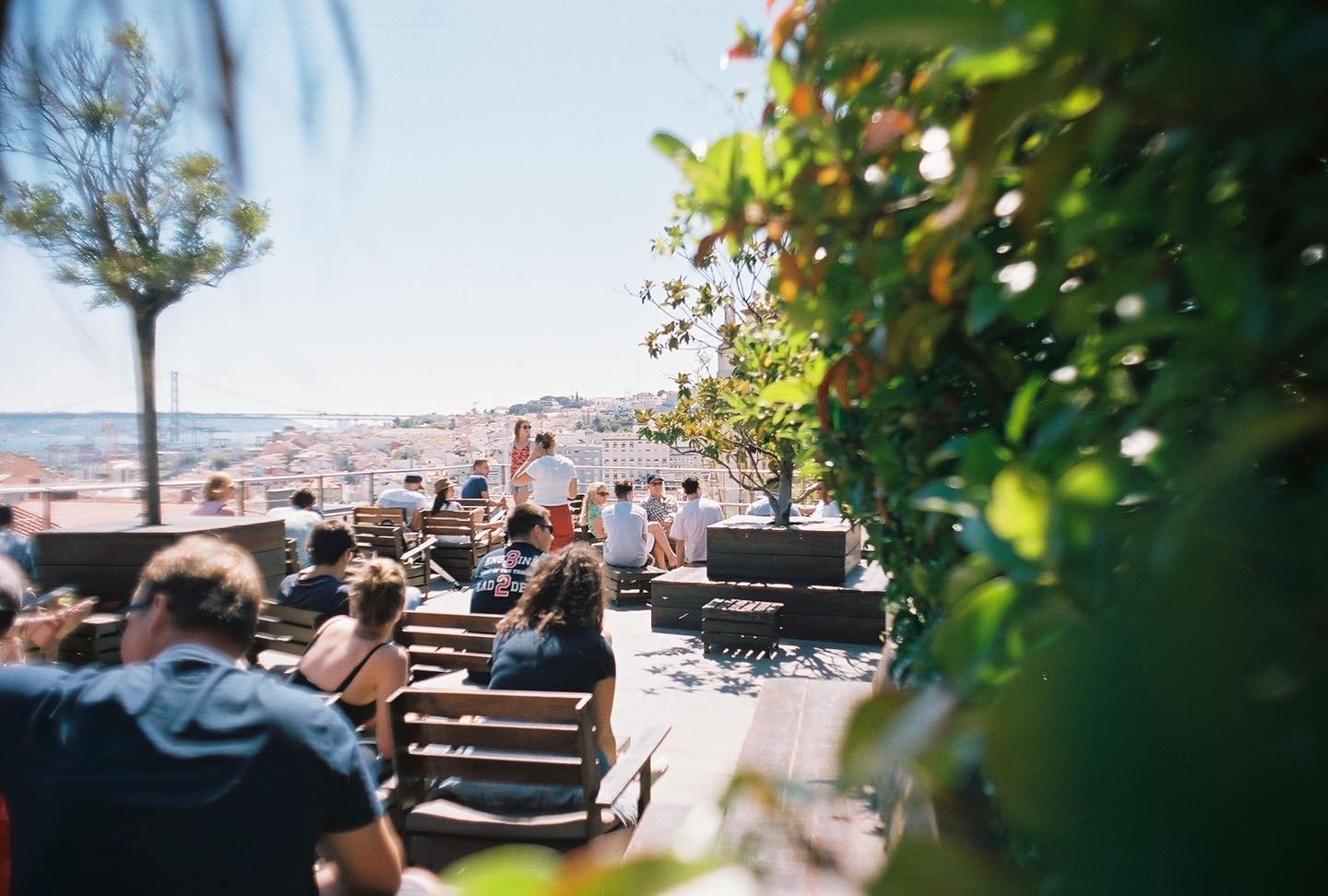 Rua dos Fanqueiros, 276, 8th floor, Lisbon. 91 202 7876. Tuesday to Saturday, from 12 pm to 10 pm
The eighth floor of the Pollux decoration store, overlooking the ruins of the Convento do Carmo and the alfacinha houses, recently opened as an Editorial Terrace, integrating a restaurant-bar and a wine library. There are more than 200 different wine references in a project led by Rui Rebelo, responsible for other restaurant spaces in the city such as Oficina do Duque and Oficina Craft Snackery, and Rodrigo Soares, producer in the Douro Valley. The terrace went from 23 to 14 places and sitting in one of them you can accompany the wine with specialties such as roasted pumpkin pastry with fennel, squid croquettes and cuttlefish ink served with thyme mayonnaise or more composed dishes such as fresh cod with potatoes a punch, spinach and lemon or the hamburger on bread.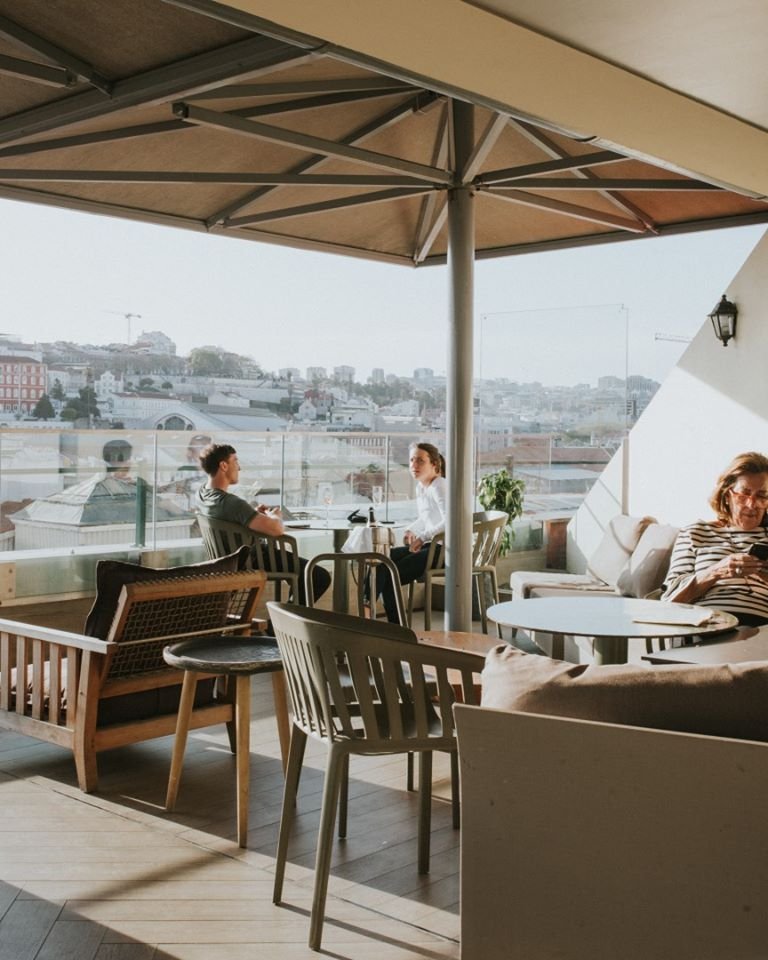 Avenida Ribeira das Naus, Lisbon. 21 408 8889. Monday to Sunday, from 11 am to 9 pm
Few terraces can boast of having the best coordinates at any time of the day. The Ribeiras das Naus Kiosk is one of the perfect addresses for those who want to have a foot above the Tagus, without getting sick or being inside a boat. Whether under a parasol or on a more comfortable lounger, you just have to sit and enjoy the river view marked by a bronze sculpture by Almada Negreiros. The terrace has halved, but you can still count on the usual cafeteria service, more elaborate cocktails, jars of sangria, ink or white, to share and small snacks, such as sandwiches with chips, stuffed croissants and the typical custard tart .