We were in 1920 and in Paços de Ferreira, more precisely in the parish of Eiriz, Alexandre Aranha Furtado de Mendonça, an influential man linked to farming and cattle raising for the production of milk, began to write the history of a brand, registered in 1934 , whose name is confused with the location.
The Leitaria da Quinta do Paço became known for being the first company in the sector to distribute pasteurized milk in glass bottles in the north of the country, in fact there were many women with bottles on their heads that walked the streets of Porto and there are still those remember them. Later, butter, cheese and yogurt came, but from the 1950s onwards, all milk processing and bottling processes were industrialized, and the factory in Paços de Ferreira was joined by a collection station and a warehouse in Paranhos. , a sales depot at the Bom Sucesso Market, in Boavista, and a sales post at Praça Guilherme Gomes Fernandes, in downtown Porto, which remains in operation today.
"The cafes were not well seen at the time, the dairy was a more familiar space that the ladies could already go to," says the Observer, José Eduardo Costa, currently responsible for the brand.
4 pictures
In this same square, which has always been famous for the sale of food products, there were many lines at the door of people who hoped to take home the strange white cream called whipped cream of their own manufacture and sold in waxed paper bags. In 1960, Alexandre Furtado Mendonça discovers eclair stuffed with whipped cream on a trip to Switzerland and decides to reproduce the recipe when he arrives in Portugal. It is in the same building as the mother shop, in downtown Porto, that the delicacy is made, quickly conquering customers' palates.
With the death of Furtado Mendonça, in 1973, the business passed to the hands of two employees and was even at risk of closing due to bad management, until in 2012 José Eduardo and Joana Ramalho Costa resuscitated the brand. That same year they registered the classic eclair as Doce do Porto and thus contradicted the theory that the city does not have a characteristic sweet, such as pastel de nata in Lisbon, the Jesuit in Santo Tirso or Dom Rodrigo in the Algarve.
With no experience in the dairy industry, the couple embraced the history of dairy and gave it a new direction. "It's funny because the manager of our downtown store was, in the most critical phase of the brand, a psychic who told her that a couple was going to save the company. We are not from the area, but it was enough to add flour and a little sugar, as the potential was already here ", says José Eduardo to the Observer.
They started by transferring the production line to an old family home converted into a small factory in Vila Nova de Gaia, which will be expanded in the summer, changed the image, bet on the cafeteria, launched their own batch of coffee and inaugurated the themed éclairs for special days. The secret, they say, is in the quality of the ingredients and it all starts with choux dough, a mixture of water with margarine, which after melting, sees added wheat flour and egg. After being involved for 45 minutes, the preparation is deposited in a machine that automatically cuts it into rectangles of eight centimeters for mini eclairs, 28 centimeters for large ones, and 55 centimeters for new XL.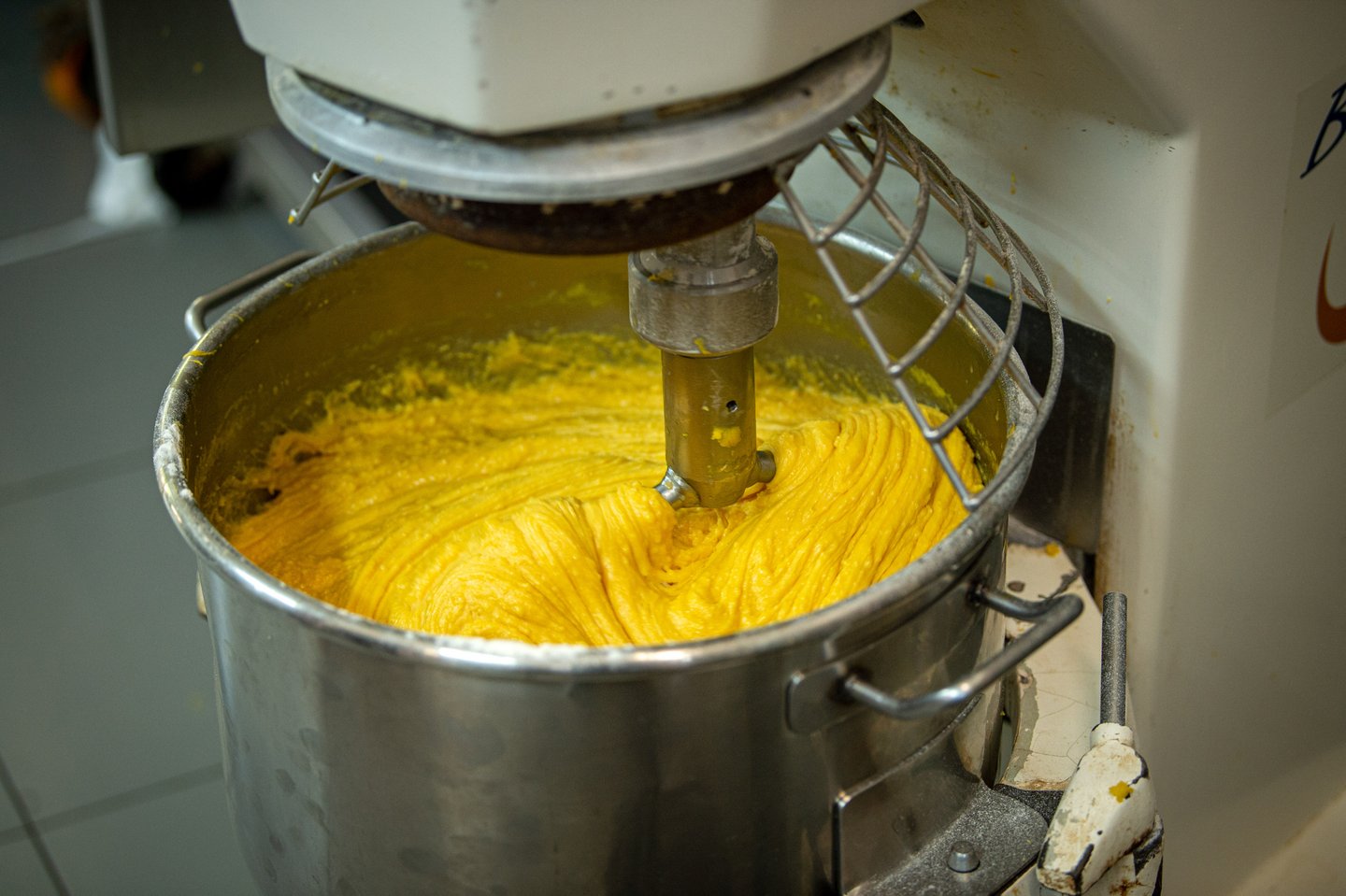 9 pictures
Filipe Cunha has been working at the house for seven years and is wearing an apron and white cap that explains the cooking process he knows with his eyes closed. After the dough is cut, part of it is frozen and goes to the Lisbon store, to later be assembled the eclair, the other part is distributed in trays, which go to an oven at 200 degrees for 35 minutes. The rectangles grow and turn as golden as you want. A batch takes 700 eclairs which are then filled, in an automated way, with whipped cream, about 60 liters are produced per day. The candy is then covered by hand, thanks to a pastry bag, with one of the 13 possible preparations. In addition to the classic milk chocolate, there is dark chocolate, chocolate with cereals, lemon, caramel, coffee, berries or apple with cinnamon.
Surrounded by stainless steel appliances, paper bags with flour, scales and XXL refrigerators, João Correia supervises all steps. The pastry chef has been working in the dairy for less than a month, he is from Bragança and would even like to be a football player, but the heritage of a family linked to sweets spoke louder. After studying pastry in France and Barcelona, ​​he returned to the north and passed BB BB before venturing into the new life of this century-old house.
From Vila Nova de Gaia, two to three thousand eclairs leave each day, between 4 am and 12 pm six men work hard with their hands in the dough, but it is Domingos Ramalhão who distributes what is made there. In his refrigerated van he takes pallets with products, from eclairs to traditional round cakes, passing through jars of toppings, jams or marmalade. "I do two to three rounds a day, I start at shopping centers, which before 10 am have to have everything ready, and I finish at street stores. Today, for example, 900 large and 800 small eclairs have left, "he shares.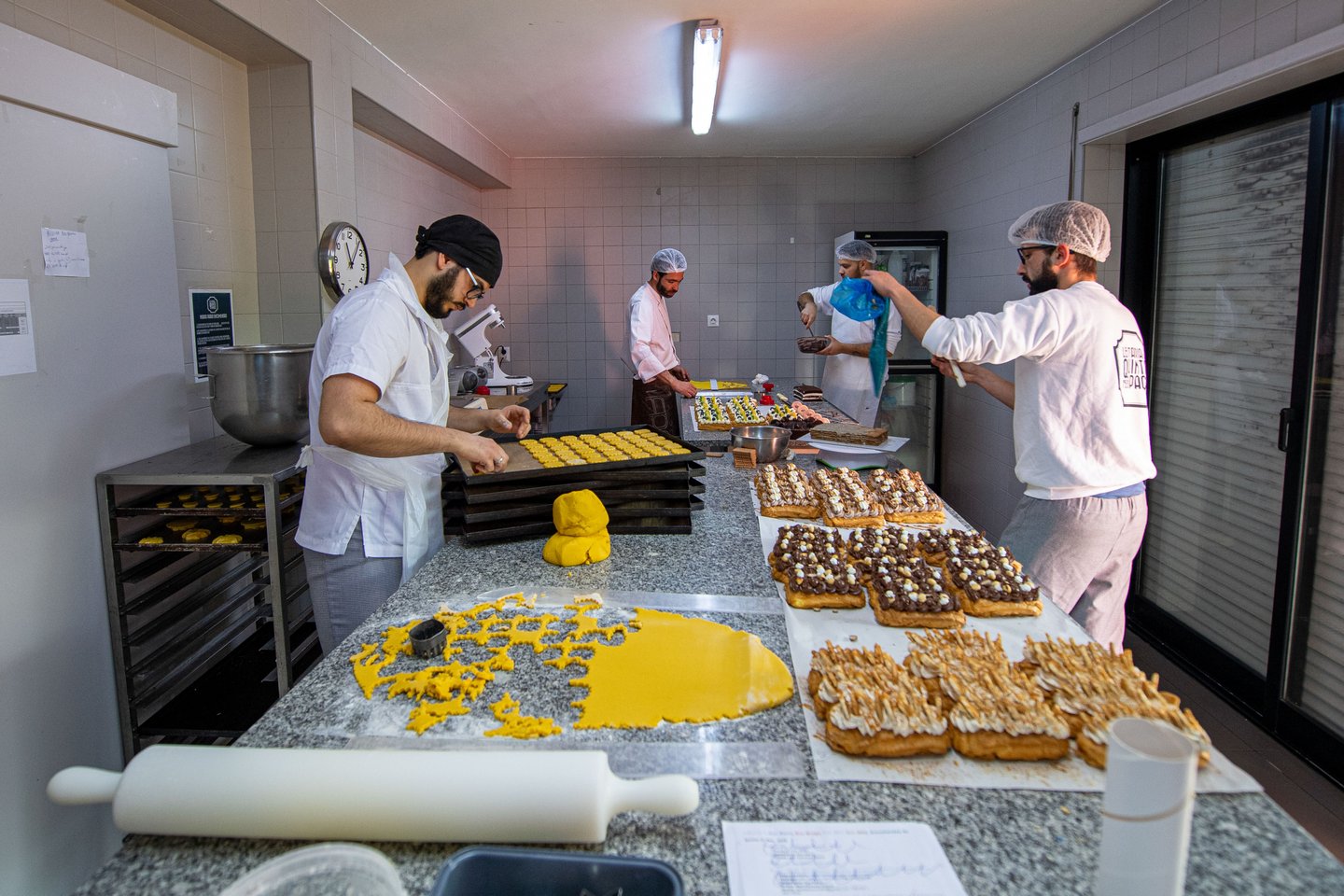 6 pictures
We found Flávio Santos washing spatulas with cream and boards with leftover dough – he is 30 years old and is the oldest employee in the house. His mother and sister worked there before and when he was 15 years old he started treating the eclairs for you. He has survived in several directions and continues to enjoy what he does. The secret, he guarantees, is to do everything with care and the lemon éclair is his favorite. "There was a time when I ate one a day, but now I can't."
The Leitaria da Quinta do Paço has eight physical stores – Baixa do Porto, NorteShopping, Bom Sucesso Market, Matosinhos, Lisbon – Avenida João XXI, Oeiras Parque, Almada Forum and Braga – but in 2020 promises to open doors at El Corte Inglés, in Gaia, and at Mar Shopping, in Matosinhos. "The decoration of the points of sale will be alternated", adds Inês Ferreira da Silva, the brand's marketing director, who also highlights the sale of butters with Azorean origin produced especially for the dairy.
Recovering the commercialization of other dairy products, such as cheese or yogurt, is part of the goals for the coming years, but the highest priority is to stabilize the whipped cream. "We continue to sell the whipped cream separately and it is a pure product, it only takes cream and sugar, so it degrades very quickly. In two days you start to get serum, it is not damaged, but visually it is not appealing. We are trying to find a solution with the University of Aveiro ", explains José Eduardo to the Observer.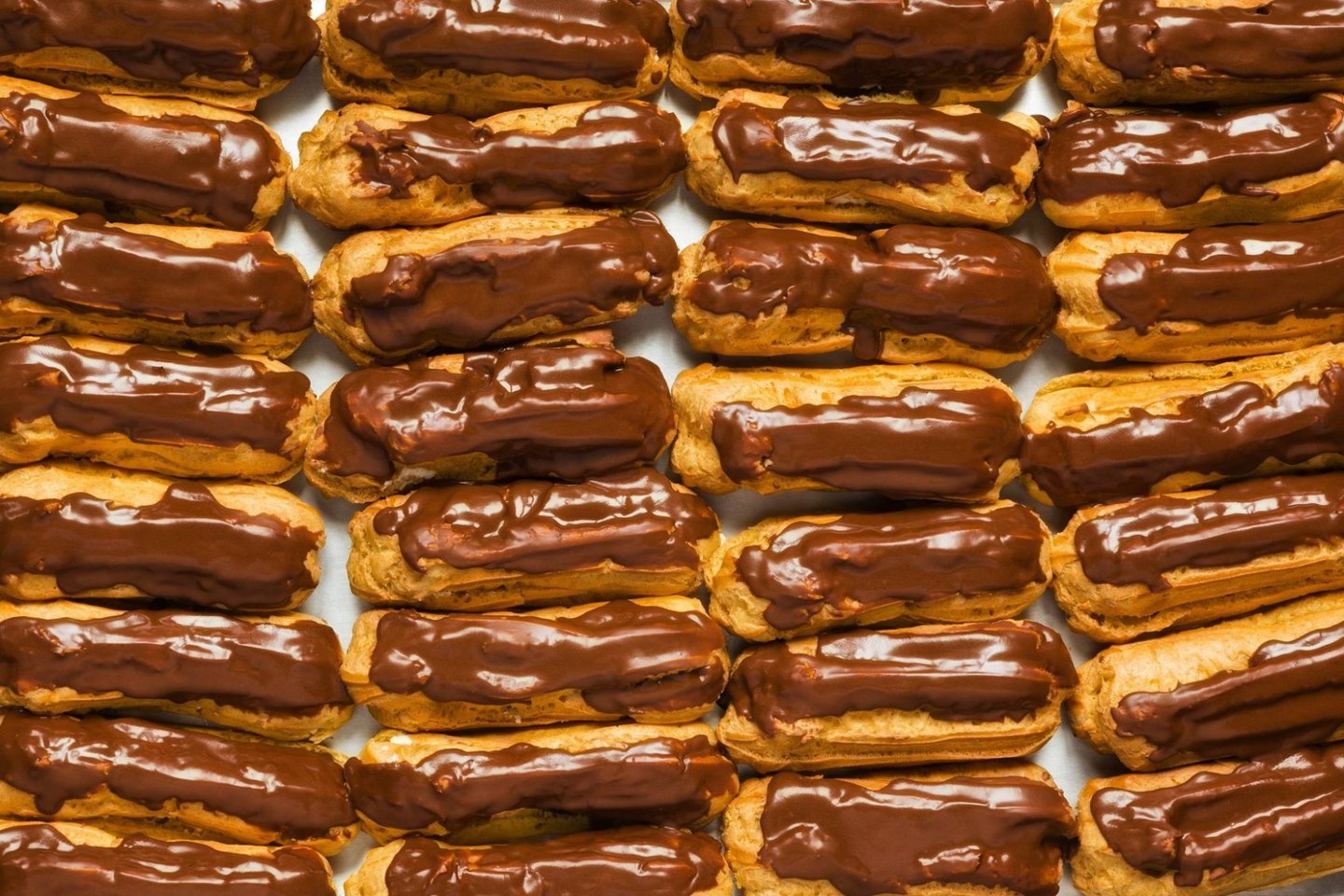 Internationalizing the brand, through revenue sharing, is another intent of the responsible duo, who sees potential and potential in Europe and Asia. "Let an investor appear," they say. To mark the 100 in the dairy, a book and a commemorative eclair are being cooked, to be presented on March 15th.