It opened in December 2010 in the heart of Porto's arts district. "We were the second gallery dedicated to illustration to appear in Portugal", says Ema Ribeiro, the founder of O! Gallery, to the Observer. It all started at the Bombarda Shopping Center, but success led the store to move to its own space on the street, very close by and, later, to do a pop-up experience in Braga, at GNRation.
The project dedicated to illustration survived the economic crisis of 2009, saw Porto modernize and found its best customers among tourists, especially those who came from Europe and the United States of America. In 2015, Ó! Galeria fulfilled an old dream, opened doors in Lisbon and in a larger space kept the concept and creativity.
Covid-19 brought an avalanche of uncertainties and fears for 2020, in addition to the closure of commercial spaces and borders. "We couldn't bear the costs and we had to close the space in Lisbon after five years to try to keep the store in Porto", explains Ema Ribeiro, admitting that it was not an easy or peaceful decision, but it was the one that had to be.
Still, Ó! Galeria, in Porto, its mother house, remains at risk and everything seems to depend on the goodwill of the public and collaborating artists. "We were able to negotiate with the landlord and pay half the rent for two months, but it is impossible to maintain business and at the same time support the artists. Having a store open requires a lot of charges and expenses. " For the responsible, it is difficult to call attention to the fragility of the project, since people "associate art galleries with projects with money and without difficulties, which is wrong."
So that Ó! "Stay afloat", Ema Ribeira invited 45 illustrators to develop an illustration to later be printed in risography, a technique similar to serigraphy, but more accessible. Copies of the "Bóia" project will be sold, both in the gallery and in online store, at a symbolic price (€ 12.30), the amount of which will be used entirely to relaunch the project.
Mariana A Miserável, Uma Joana, Tamara Alves, Carolina Celas, Clara No, Helena Pérez Garcia, Yara Kono, Júlio Dolbeth, Mariana Rios, Tina Siuda, David Penela or Mariana Malhão are some artists who accepted Ema Ribeiro's appeal. "I just asked them to send a positive message, so that people would remember the contribution as something good, synonymous with unity, and not relate it to the moment we are experiencing. So far, the feedback has been very good. " There are eight illustrations available for now, but 37 more will arrive by the end of the month.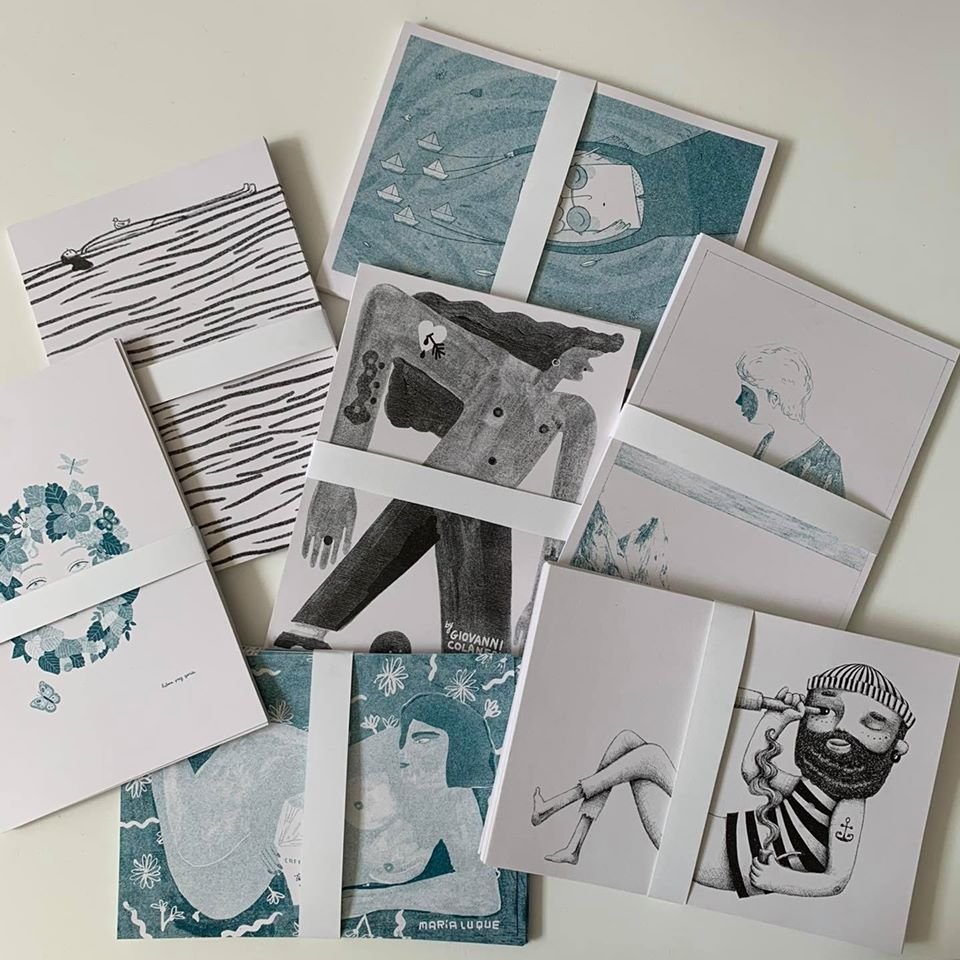 Despite all the difficulties, it is certain that Ó! Galeria will reopen this Friday in Porto. "We were going to open last Monday, but we didn't make it. We had to reorganize the physical space, since we duplicated the material with the serigraphs we brought from Lisbon. " Those who pass through the store will be able to see originals from exhibitions that did not pass through Porto and other news. "Soon we will also reorganize the exhibition calendar", says Ema Ribeiro. "I am not very optimistic, I confess, I would like to be more The truth is that there is no improvement reflected so far. I'm afraid that this phase of lack of definition will lead us to a second wave of the disease. "
On June 1, the store reopens in the same block O! Ceramics, dedicated to ceramic objects products by mostly Portuguese artists, being "a kind of complement to the gallery". The space will receive workshops, artistic residencies and will also function as a co-work.
Rua Miguel Bombarda, 61, Porto. Monday to Saturday, from 14h to 19h. 930 558 047