Three days after their first official appearance after Megxit, Meghan Markle and Prince Harry were the protagonists of the penultimate official event as active members of the royal family on Saturday. Between standing ovations, nervousness and gestures of affection that have already gone viral, the couple did not disappoint during the "Mountbatten Festival of Music 2020", a charity concert at the Royal Albert Hall in London, offered by the Royal Marines (Royal Marines of the UK).
Harry performed, as expected, in his uniform – this was a very special concert for the prince, who performed in his role as captain general of the Royal Marines, a post which he will also resign later this month.
Beside her, Meghan wore a long and elegant red dress that perfectly matched her husband's costume, earning the praise of all critics, writes El Espanol. The dress with a fake cape that opens on the back, which the American also has in blue, is from the Safiyaa brand.
As accessories, the protagonist of "Suits" was accompanied by a red wallet full of jewels by the Hispanic-British designer Manolo Blahnik, which costs approximately 1,450 euros. On her feet, Meghan used red Aquazzura stilettos, which cost 450 euros. As for jewels, the choice fell on earrings with several red flowers – the original price of these was 315, but at this time they cost 189 euros.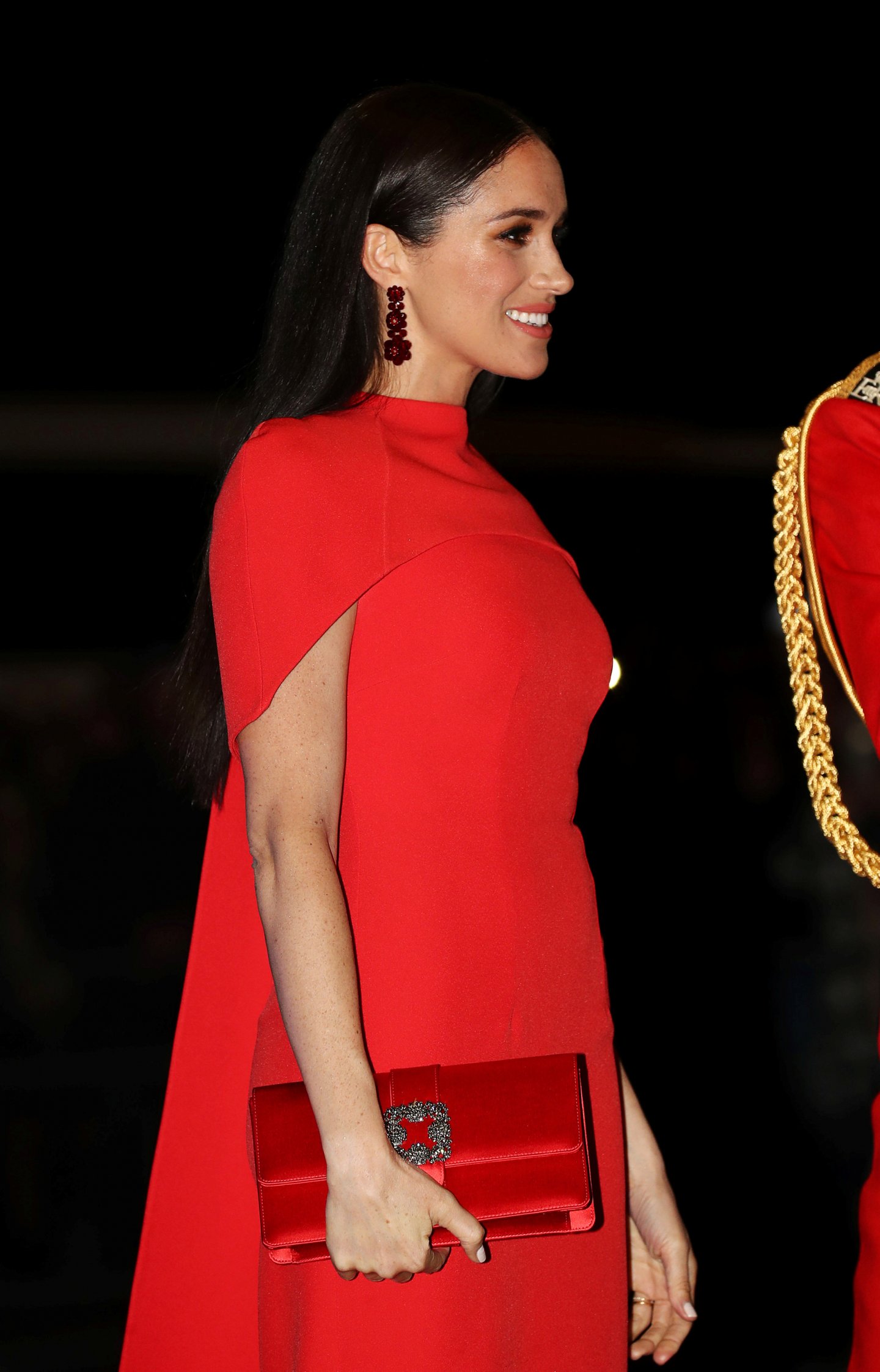 On Sunday, some videos of the couple began to circulate inside the enclosure where they enjoyed the concert that has already gone viral.
In the images, it is possible to see that Harry was visibly moved and nervous, taking into account that as of March 31, he will stop using all the honorary military titles that he kept throughout the "Megxit" negotiation.
Upon arrival at the hall, the dukes received a long, warm standing ovation, which received a restrained salute from Harry.
A bittersweet moment ???? Harry & Meghan received a standing ovation at the Royal Albert Hall as they attended one of their final public engagements before they step back as senior royals. #MeghanAndHarry #MeghanMarkle pic.twitter.com/rM5duyjUr4
– Sue (@SuSaNhaSiaNi) March 8, 2020
A few seconds later, Meghan looks for her husband's hand, in a gesture of affection and as a way to comfort him. In a video that has already gone viral on social networks, it is possible to observe each of the gestures exchanged between the couple, which has delighted fans who defend the relationship and believe in the love that led them to abandon the royal family.
When I tell you there was a lot being communicated during that standing ovation… whew! ???????? #SussexPDA #Handhold pic.twitter.com/wLYfip4bNe
– Royal Suitor (@royal_suitor) March 8, 2020