Don't think the song will fade if you exclude this bonus. For the trainer, as in everything in life, the slice corresponding to work (90%) completely overwhelms that of technique (10%) and learning is available to the dedicated, regardless of age. "Anyone can be a good rider if he is a worker. If you feel like it. I often say that it is the 10,000 theory. If you make a circle 10,000 times, it will do well. "
The harmony between horses and music can go beyond notions of harmony, rhythms or poetic visions. It doesn't even take much effort, or the crutch of figures of style. Just think how the violin bow itself is made with horse tails (of males only), points out Clara, while holding the instrument for the photo and admits that this is perhaps the aspect that most interests the father, when the horses come to the dance – in short, understand that the expectation about the daughter's relationship with the violin was high.
As for the temporal distance of the virtuoso who left 600 compositions, this distant cousin is confirmed in the family tree he shares with us, a bond that never conditioned his preferences in hearing. "If at home we hear more Schubert than other composers? Clearly not. Even the solo CDs that my father has recorded so far, have never been with music by F. Schubert ". To frame and summarize the web of ties, "basically, Schubert's grandfather had a brother. We are your offspring ".
Franz Schubert died at age 31, leaving no children. Clara's great-grandfather's grandfather, Benjamin, will still have him private, even attending concerts by the musician, a prominent member of a clan that has always been known for the generous number of children and brothers, but also greatly punished by the early death of many of these offspring . A tradition, however, remains very much alive in the 21st century, inherited from the late 18th century, and especially instilled by the knight's paternal grandparents. "We have always done many concerts at home, with friends, even in churches. A kind of "Schubertiade" like F. Schubert used to do with aristocratic friends and artists in their homes and palaces ". Not to mention the classic Christmas postcards in which he appeared next to his brother, to be sent to the family.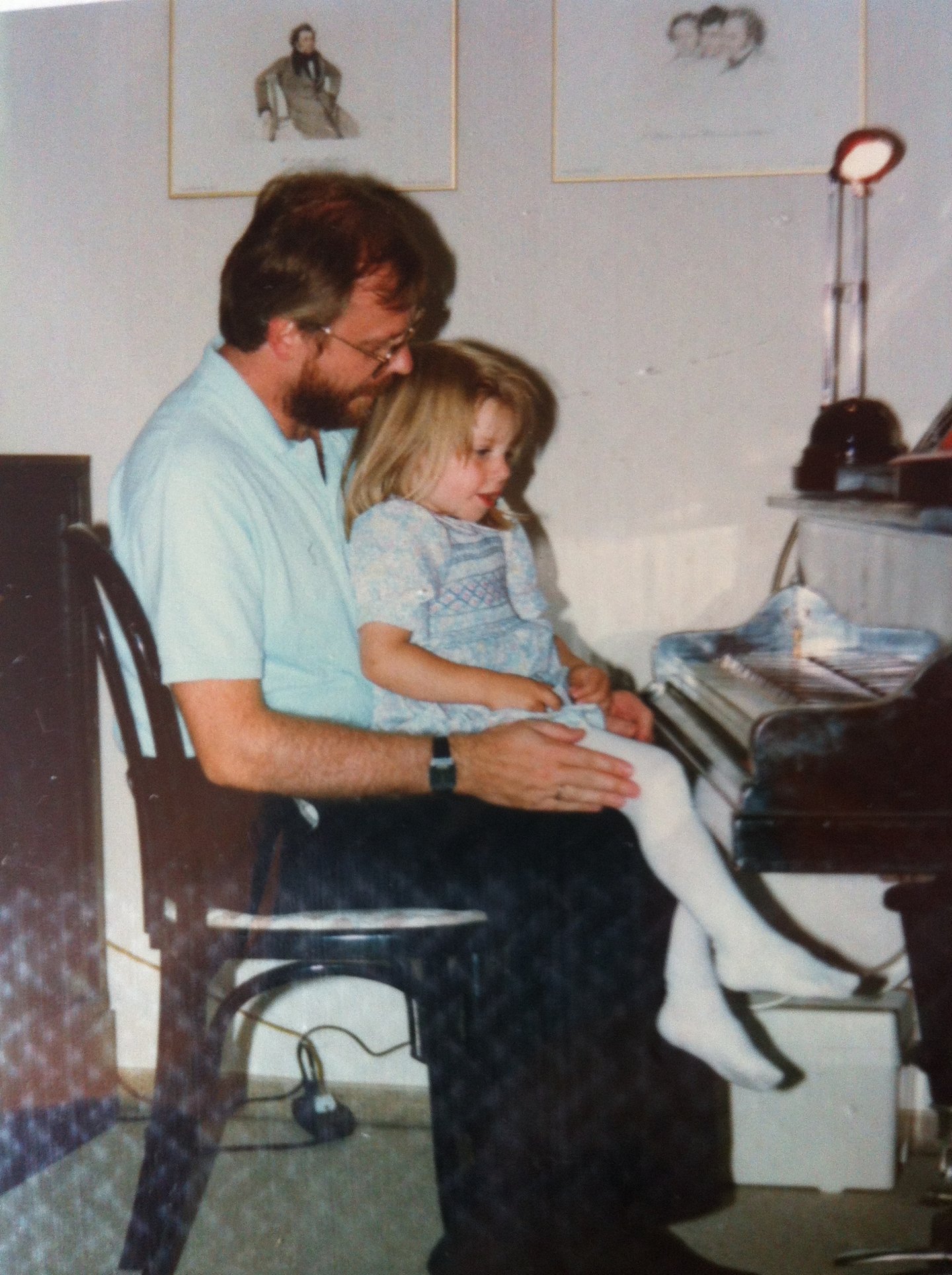 ▲ Clara on her father's lap in Vienna. In the background, an engraving with the image of Franz Schubert © DR
Gerard Schubert, Clara Maria's father, is the first professional musician in three generations of the family (throughout her life, Clara's grandfather and great-grandfather combined her studies at the Conservatory with other activities). "I always saw my father with the violin and I liked it. On the harp, which should start later, I have a funny story. I went to see an opera when I was 11 years old and my father sat me next to one of them, for no one to see, in an afternoon rehearsal. I spent about four hours like this. In the end I decided that I wanted to learn to play. Violin, I only play a lot now and then. "
Clara's mother, not having a direct connection to music, is also descended from wind musicians. The younger brother of the knight, likewise, abandoned music for an old and urgent desire. "He is a rescuer. Her big childhood dream was to have a blue light in the car to drive with priority! "
Clara Maria Schubert came to Portugal about a decade ago, through the Erasmus Program and completed a master's degree in conference interpretation (EMCI) at the Faculty of Letters in Lisbon, against the natural doubts of the master Luís Valença. "I don't know when she studies or goes to classes, because she is almost always riding.", She repeated. He started working since then as an interpreter and translator, an activity and source of income that he maintains, performing functions at weddings, notaries and often in the field of medicine.
The imaginative, lyrical and melodic style, inscribed in the DNA of the descendant, does not forget one of the most relevant details for those who teach, such as the physical and mental health of the horse, which often lead her to decline some requests from owners and customers, using the financial cushion allowed by working with freelancers to balance budgets. "Sometimes they want a four-year-old horse to learn how to do, for example, lifts, hand passes, or riding a bridle. In my opinion it is too early. That is why I refuse to teach exercises to horses that I still don't think are appropriate for the state and stage they are in. I prefer to lose a client than to work against the horse's health and against my principles ".