In a nameless suburb, in a post-imperial and decadent America, where the children of September 11, 2001 grow up between normalized access to drugs and weapons, the escapism provided by virtual reality, pornography, filmed, photographed and shared sexuality , family dysfunctionality, illness. In this city, where it is almost always night, where the shadows persist in hovering over American dreams, and the environment is of total dysphoria, life disguises itself, masks itself in a false joy, in an "Euphoria". The series, which premiered, without much fanfare, on HBO in the summer of 2019, has become a phenomenon of popularity despite the harshness and realism in addressing current issues such as homo and transsexuality, depression, violence, but also in the creative way in which each character is constructed, namely, using makeup as a meta-narrative.
The dramatic series, created by Sam Levison, does not seem to be the most likely place for an explosion of creativity in the field of makeup, but Levinson assumes that he is addicted to watching tutorials on the topic on You Tube, and when he called Donielle Davy and Kristen Sage Coleman for the characterization asked them to create an aesthetic for each character, which was not merely decorative, but an expression of the inner world of each of them. Thus, in Euphoria, makeup becomes what was the fashion for Sex and the City, Gossip Girl or Mad Man: an extension of the self, an identity and epochal language.
At the center of the narrative is Jules, a transgender played by the Hunter Schafer model, who is also transgender. Jules is the new girl in town and, contrary to what one would expect, she is the safest, most confident and the only one who seems to have a future outside that suburb. She is the most complex and most unexpected character, but Levinson is never tempted to look at her from a moralistic or paternalistic position. For this reason, Donielle Davy created an absolutely fascinating pictorial language for her, anything between Kandinsky's modernist geometry and Pollock's abstract expressionism passing through Miró's surrealism. Davy and Coleman use an almost childlike radicalism by drawing circles, clouds, flowers around the character's eyes or simply using shapeless patches of many colors as if a child were using a box of colored pencils or watercolors for the first time. The result has an unquestionable expressive force having immediately created a following of followers: from Globos d'Ouro to fashion shows in September 2019, and now in 2020, passed by street style, it is difficult not to find references in the eyes of Jules in "Euphoria".
With a panoply of references ranging from Nina Simone, Twiggy, Cher to the cult film by Scorsese, Taxi Driver, "Euphoria" has as protagonist the model and actress Zendaya (Rue) and alongside Barbie Ferreira (Kat), Sydney Sweeneey (Cassie), Maude Apatown (Lexi), Alexa Demie (Maddy), this just to talk about the female part. They are all girls in a process of continuous mutation, in search of a place and a body where their life can fit. Davy is assertive and in several interviews explains that the makeup is different with each appearance of the character, each change of clothes, scenery; each event implies a cosmetic and chromatic revolution.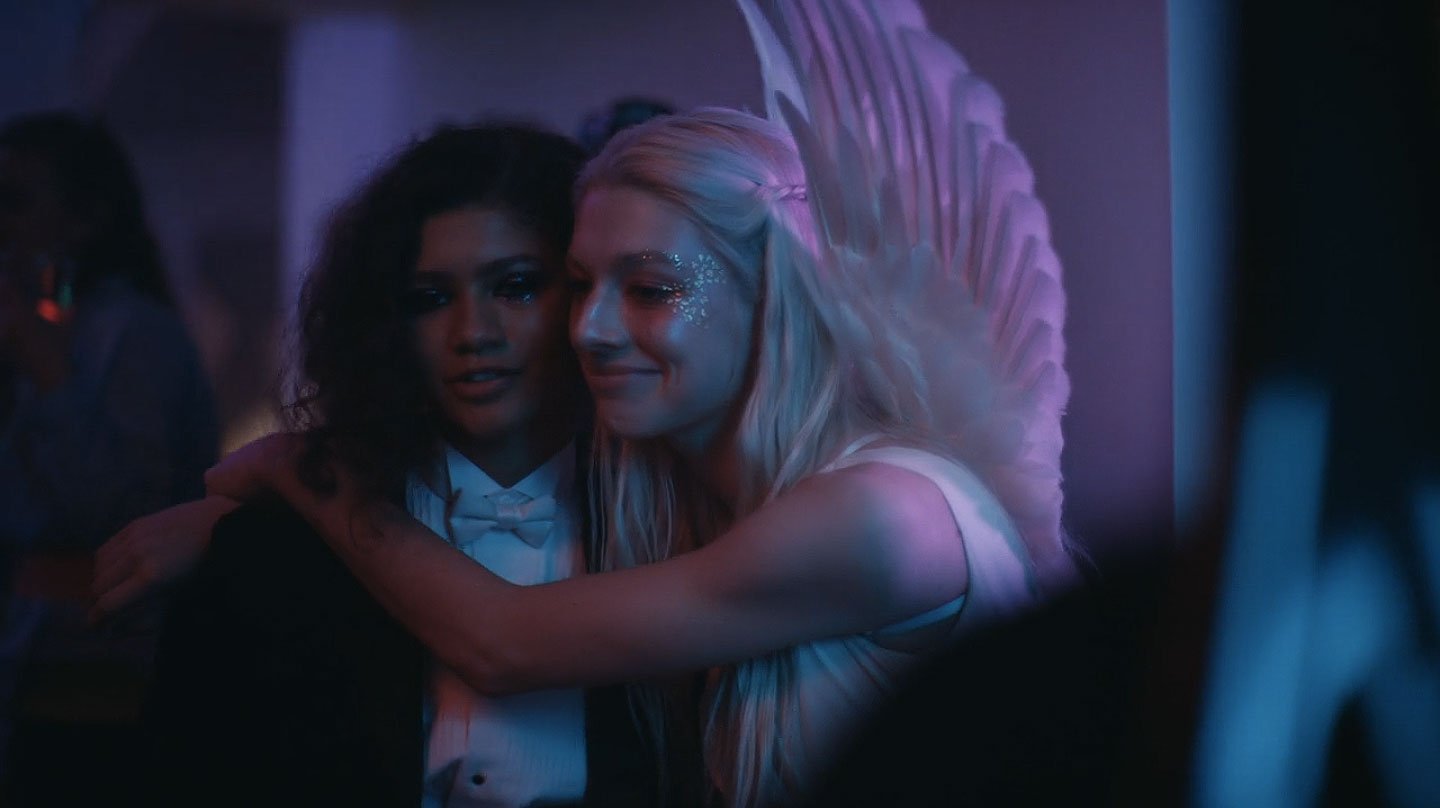 In the Euphoria universe, colors tend to be saturated, hyperpigmented and underlined with the use of small crystals or pearls in the eye area. If you're thinking about Coachella right now, forget it. There is no carnival here even though it is known that each life has its masks. For this reason, in Latin "mask" and "person" are called "persona". And, in fact, that's Sam Levinson's goal, to create personas. People and not mere puppets who deliver a speech. So we have Rue (Zendaya) here stripped of all glamor, like a depressed and drug addicted young woman. If at the beginning of the story she does not wear make-up, her slow and oscillating joy is manifested in eyes where the glitter passed but then it flowed like clownish tears. Maddy, in her hyper-sexuality and need for affection, dreams of podiums and fame. Her eyes are invariably charged with blue and ornamented with crystals, which have already become the character's brand image. Davy says that for the somewhat revivalist composition of Maddy, she sought inspiration for the aesthetics of singer Nina Simone. Cassie, on the other hand, somewhat naive but trying to assert herself in the face of prejudice is inspired by the young prostitute from Taxi Driver (Jodie Foster). However, it is Kat (Barbie Ferreira) who, alongside Hunter Schaffer, attracts us the most, either because of her evolution from a fat girl ashamed to be a sexual bomb that is sold, in secret, on the internet. His most desirable and unthinkable shades of green and lilac pass through his eyes and lips.
Another of the curiosities of the aesthetics of "Euphoria" is the almost disappearance of lipstick, this tool so cinematic and so connected to the feminine. Basically, Donielle Davy paints only the eye region, leaving the rest of the face totally naked or with little shine. Everything is played in the look and this is also an affirmation of rebellion, both of the characters and of the creators of the series: the face painting stops being decorative or corrective to be essentially self-expressive, an identity statement that is, at the same time , a way of communicating the states of soul, inner convulsions with the outside world.
At a time when the cosmetics industry is growing in an overwhelming way, when male makeup begins to naturalize, and when we are asked to follow the strict and strict rules of influencers who are born like mushrooms on online platforms, it is curious that this new, creative, appealing and transgressive "discourse" does not come from the Internet but from a television series, a medium where makeup has had and has an absolutely conservative approach.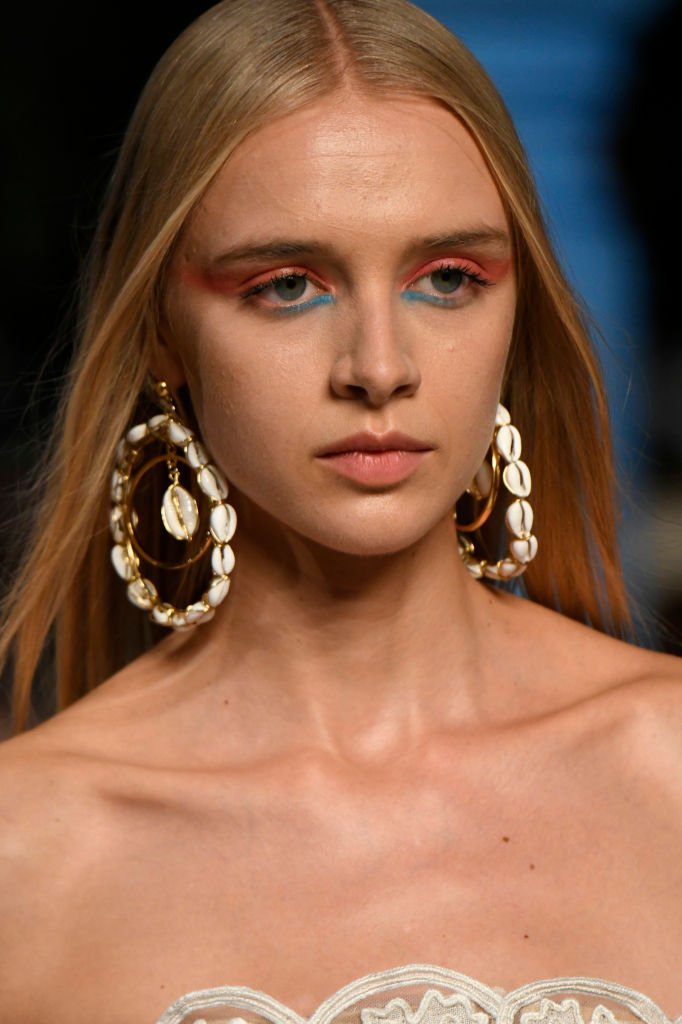 Pending the second season of the series, which should arrive in the fall of this year, it is almost impossible not to want to try Jules' graphics, yellows and whites, Kat's greens or Maddy's pearl-studded eyebrows. But if veteran Pat McGrath has already done her own reinterpretation of Jules's modernist aesthetic, at the Prada show for fall / winter 2020, and if Jason Wu, Oscar de la Renta, Anna Sui and Chromat have shown that they are attentive to " Euphoria ", and if international street stylers and influencers have already dared these wide and fresh paths opened by Donielle Davy and Kristen Coleman, the truth is that all of this is harder than it looks, and you need a trained and safe hand and some tools with a lot of color and shine: white eye pencils, white eyeliners, with glitter or strong shades such as blues, greens, purple (the Urban Decay brand is one of the ones that has more products with glitter but, there are cheaper brands, such as Essence from Wells, which have an interesting set of retractable pencils in pink, blue and green tones that are great for beginners, such as the Kiko Milano or the Sephora Collection).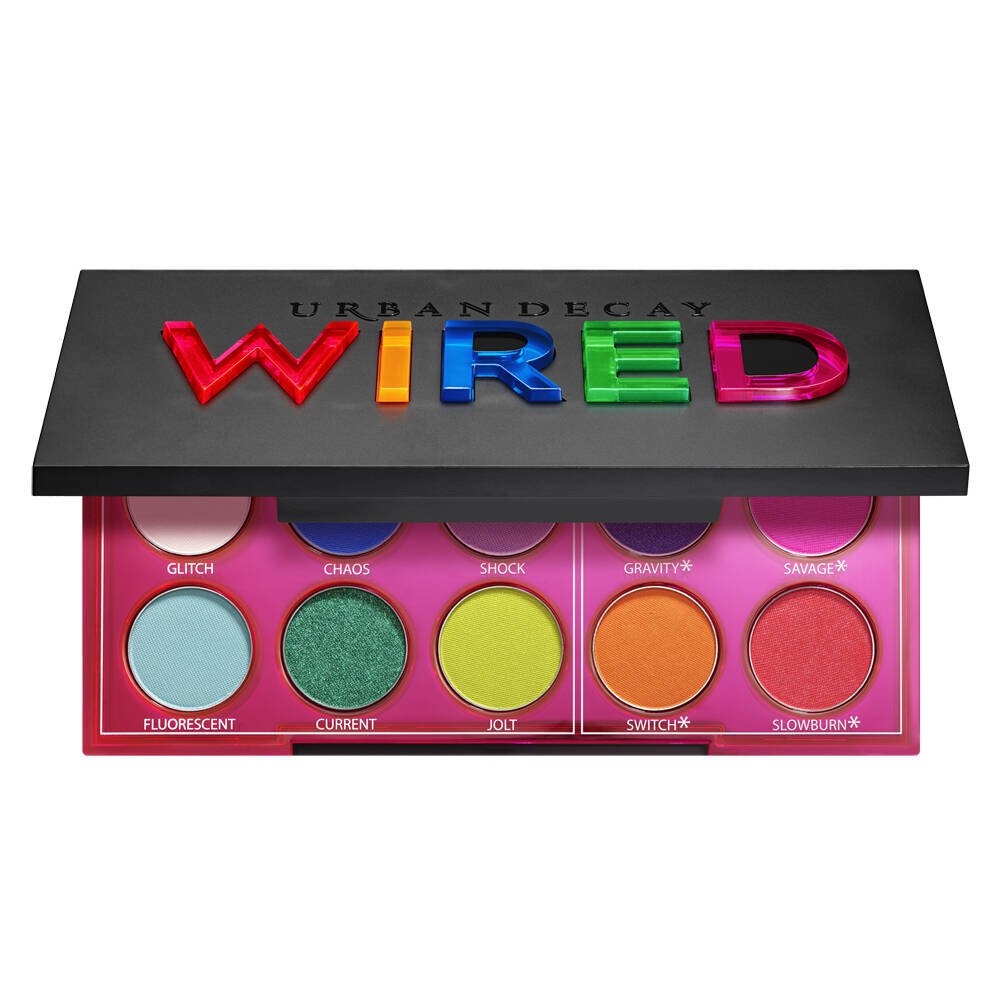 Wired Pressed Pigment Palette, Urban Decay
6 pictures
Shades with strong shades of yellow, reds, pinks, blues can be found in the palettes of Fenty Beauty, or in Norvina Pro Pigments by Anastasia Beverly Hills. Huda Beauty has a palette only in shades of green that is not to be ignored if you want to replicate Kat's looks, and the NYX polychrome, with all its galaxy, is a must for anyone looking to find products with intense colors. Another indispensable tool is the mask; but now forgetting black and opting for blues, greens, yellows. False eyelashes, crystals, gold leaf, glitter to recreate the looks of Rue or Maddy can be found in stores like Claire's, but also at Sephora or even in a neighborhood haberdashery. The trick that Davy shares with the world is just this: "paste everything with eyelash glue".
The Observer is the impossible project, which was launched without advertising, without much money and with the audacity to be different. We had only one argument: our journalism, our work, our reports and investigations, our ability to innovate and create new products, our boldness in dealing with new topics, our courage in breaking with ideas made, our youth. Today we are visited regularly by seven million readers every month and we have become a central reference in Portugal. Today more than ever, it is all of these readers who make the Observer, just as the Observer contributed to making their lives as citizens richer. Not least because no citizenship survives without a free press, paid for by its readers.
Subscribe now