It all started in the mind of Duarte Torres, a professor at the Faculty of Nutrition and Food Sciences at the University of Porto (FCNAUP) who, after earning his doctorate at the University of Minho in the area of ​​food technology, specialized in the industrial development of these products.
"One of the projects I was involved in recently was the national food survey, a population study that shows how the Portuguese consumption and eating habits are. This type of information has not existed in our country since 1980, that is, we did not know very well what we were eating. That's when we realized that the consumption of legumes was well below what is recommended for the Portuguese population ", he explains in an interview with the Observer.
Thus, in 2015, the idea of ​​exploring the potential of legumes in a snack came up. Duarte Torres joined four FCNAUP students and researchers – Márcia Gonçalves, Gonçalo Barreto dos Santos and Débora Teixeira – to develop the first tests together.
"In large densely populated countries, such as China or India, the demand for animal protein is increasing at a very rapid rate and this will bring some constraints on supply, prices and even in environmental terms. Many vegetables have a very interesting protein source and are not valued. The idea was to use a vegetable protein source to produce something that was consumed in a practical, simple and convenient way ", underlines Duarte Torres.
Initially, the team thought about incorporating legumes in bread or drinks, but ended up realizing the intention in a dry product, without great conservation needs and with an expiration date that can go up to one year. The laboratory process, which is never completed since the product can always be improved, lasted two years and went on to the next phase: investing.
"Finding investors was a path that took a long time, had a lot of advances and setbacks", recalls Duarte Torres. The journey began when he met Alexandre Santos, his former student and currently CEO of the company. "He ended up following management and working on assessing the viability of investment projects. We met in a forum, I showed him this idea and he was very excited. It was easy to come to the conclusion that it would be worthwhile to create a company and invest. "
After studying management, Alexandre Santos became involved in the scientific area and investment, having worked at Portugal Ventures. When he first came into contact with Duarte's idea, he was sure that it was "a very mature opportunity" that should be taken advantage of. "We all know that people today have less and less time to prepare their meals, but are increasingly concerned with health. To be able to use an ingredient such as legumes and transform it into an interesting product, which did not exist, was a challenge ", he recalls in an interview with the Observer.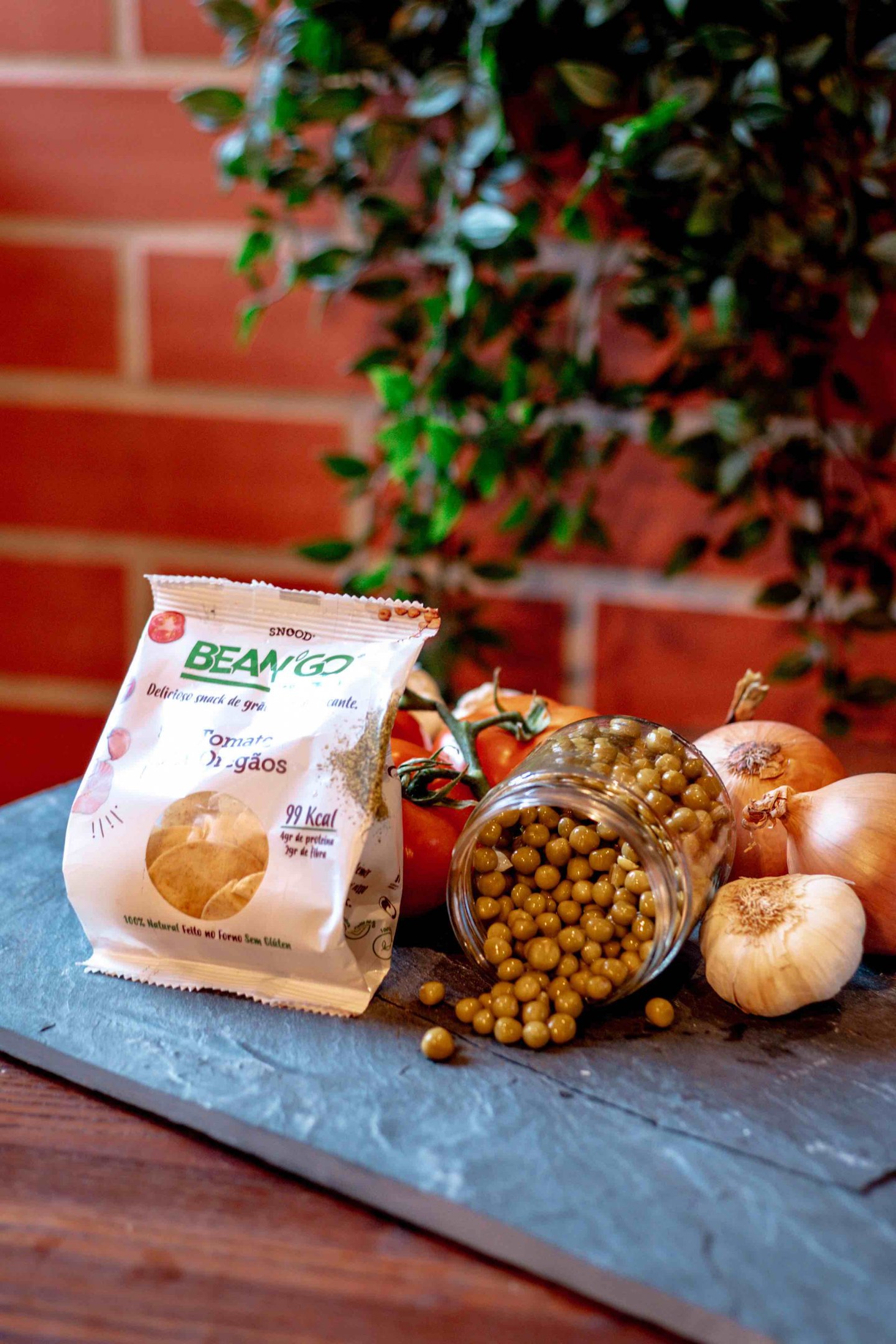 The brand was registered in 2017 and, without giving any figures, Duarte Torres says that the first tranche of investment was achieved with the help of family and friends, while the second round was supported by other investors. Today the Snoods Foods has eight partners and a factory in Porto responsible for the production of Bean'Go, the first brand of this startup.
The making of the six available snacks follows processes already used by other industries. "None of the technological operations are new, we just associate a series of processes that allow us to obtain a dough with flour made from legumes", explains Duarte Torres.
Unlike pasta made with wheat flour, it has special characteristics, much less elasticity, is gluten free and presents different technological challenges to achieve a light, crunchy and satiating product. "After being mashed, we took the mixture to a kind of mixer. The dough is then rolled out and rolled into a small film, and then baked in the oven for a very short time ", describes the researcher, adding that after cooking, powdered spices and olive oil are added.
Peas, red beans and chickpeas are the three bases available, but in the future the goal is to explore other legumes such as black beans or lentils. "The sources of animal protein are not so interesting to us. Legumes have great potential and we feel that we are not taking advantage of this resource, either in agricultural or food terms. Our focus is this and there is still a lot to do. "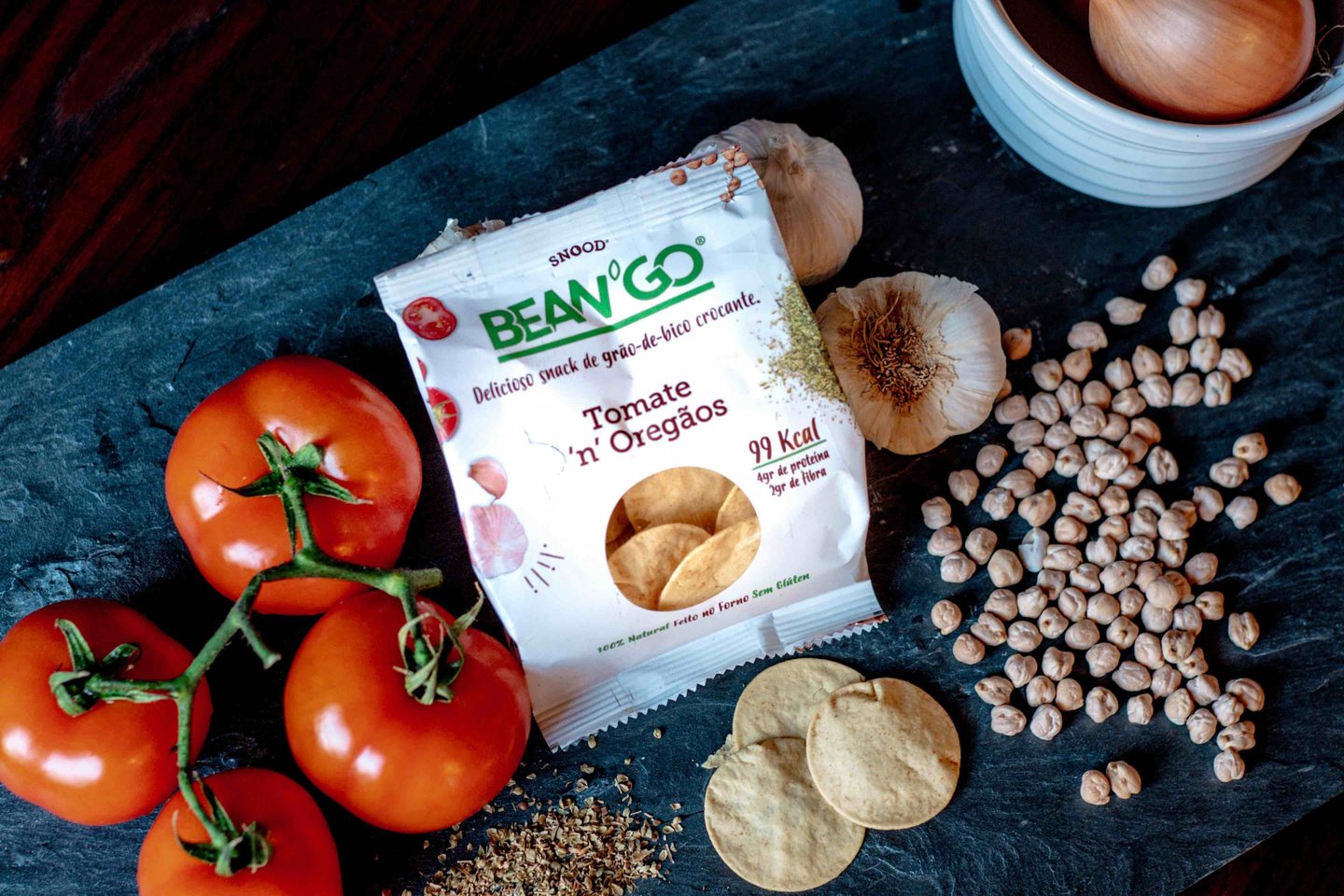 For Alexandre Santos, CEO of Snood Foods, Bean'Go is a very democratic and versatile product, consumed "by the father who accompanies him with a beer watching football and by the son who takes him to school as a snack". Currently we can find these snacks in the 50 largest stores of Pingo Doce, at € 1.39 each box. "Up to now, we have sold around 50 thousand packages, but we have installed capacity for around 100 thousand packages per month", says the official.
However, large retail is not the only focus of Snood Foods, which soon hopes to enter the food vending machines in schools and the National Health Service. For now, the priority is not to sell online, but to internationalize the brand. "We are interested in the Spanish market, for reasons of proximity and logistics, and then France, Germany and the United Kingdom, where a large part of the population is concerned with health and is open to this type of product."